Thanks for stopping by!
Bobcat Athletic was formed in 2009 to fill the need of a Custom Lettering House on the West Coast. We have successfully grown to include custom uniforms and garments, underwear, work out wear, general customization including: sublimation, embroidery, silk screening, rhinestone designing, and more.

Our friendly staff can help you select from existing garments or help you build a package that will best suit the
needs of your team or organization.


---
Meet the Team:
Scroll over for contact info.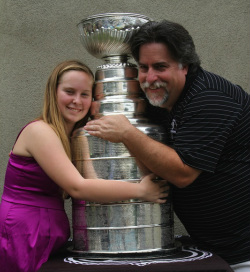 Bob has worked in the Athletic Uniform Industry for over 25 years. Growing from retail to production he has experience working with different industries including professional sports, movie and television production, and local needs. At Bobcat Athletic, Bob manages the sales staff and oversees all manufacturing.

In his free time (when he gets it!) Bob enjoys spending time with his daughter and traveling.


---
Julie came to the Athletic Uniform Industry in 2001 working in a costume warehouse. From there she learned customizing and team needs. Having specialized in business she took this knowledge of uniforms and team wear and uses it to manage the office and Business Operations for Bobcat Athletic.

Her free time is spent training animals and working with her Girl Scouts.


---
Jason has over 20 years experience in uniform customization. He has worked not only in team sports from the major league level to local team level but also on customization for the movie industry. He manages the production team, overseeing the production of all of your orders.

In his free time Jason enjoys spending time with his family.


---
Production Team: